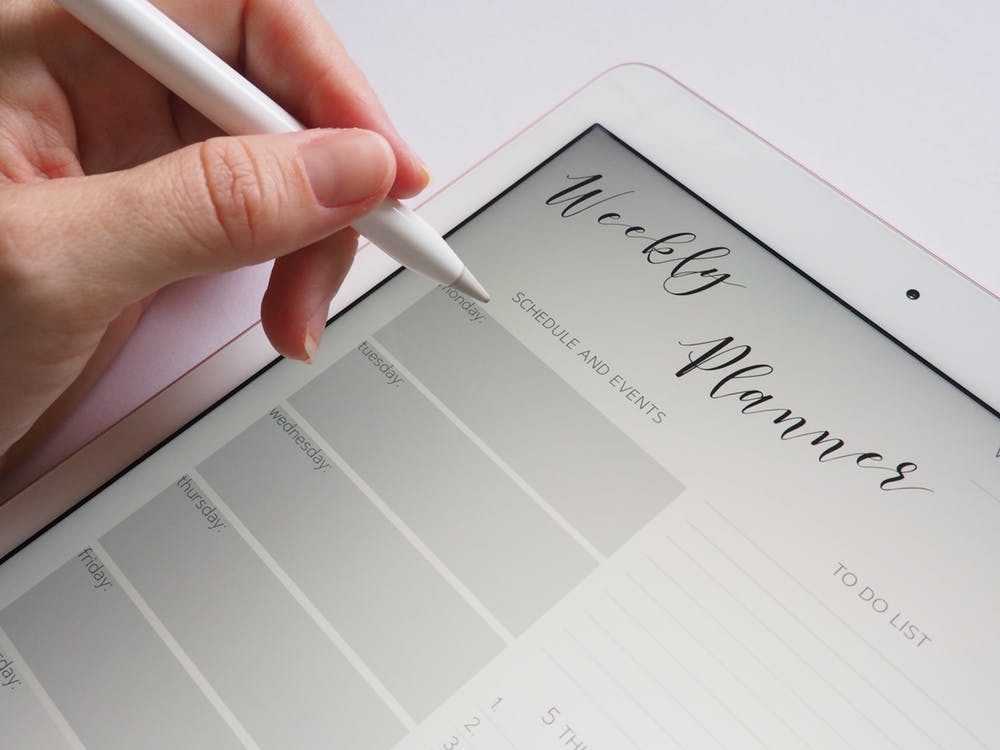 English below ☟
Som jeg har skrevet om før i dette indlæg, starter jeg altid et nyt semester med at lave en overordnet plan for min øvning – både mere generelt, hvor jeg planlægger mine lette, medium, hårde og recovery uger, men også mere i detaljer mht. til det repertoire, jeg gerne vil nå.
2019 er selvfølgelig ingen undtagelse. Faktisk kræver dette semester endnu mere planlægning for mit vedkomne. Jeg bliver kandidat til sommer, og i denne forbindelse skal jeg spille en eksamenskoncert med en varighed på 45 minutter. Ikke nok med det, har jeg også et stort ønske om at søge ind på solistuddannelsen – og der kræves et varieret repertoire på intet mindre end 75 minutter. Det svarer til en helaftenskoncert, og så meget program har jeg aldrig skulle have mellem hænderne. Nogensinde. Så det er både en smule overvældende, stressende, men også enormt udfordrende for mig. Ikke alene skal jeg først og fremmest lære stykkerne rigtigt godt, men jeg skal samtidig også holde det hele ved lige, så det fortsat er i udvikling og ikke går den modsatte vej. Sideløbende med de spillemæssige krav, har jeg også mit kandidatprojekt og job at tænke på – og det tager altid lige lidt mere tid og energi end man tror. Derfor tænker jeg, at effektiv øvning bliver livsnødvendig i de næste par måneder. ?
Her i starten har jeg prøvet så vidt muligt at planlægge mine uger. Jeg planlægger altid mine recovery- og de lette uger på de tidspunkter, hvor der sker mest på arbejdet. Det kan enten være pga. kursus, projekter eller andre ting, som kræver min deltagelse, så jeg ikke når at få øvet så meget. Jeg har også forsøgt at tage mine recovery uger i fx vinter- og påskeferien, hvor jeg ved, at jeg skal være sammen med min familie. Mine medium- og hårde uger ligger således på de tidspunkter, hvor mit arbejds- og skoleskema nogenlunde ser normale ud. Pga. mit lidt travle skema her i foråret, går det ikke helt op med, at hver 4. uge er recovery-uge. Nogle gange er det efter hver 3, andre gange efter 5. Hvis det er sidstnævnte, har det været vigtigt for mig at tage 2 lette uger, så jeg ikke kører død i øvningen.
Hvis du er interesseret, kan du downloade og printe oversigten/skemaet ud her, og planlægge dine egne uger.
Derudover har jeg også lavet en mere detaljeret øveplan over hvilke repertoire, jeg skal lære at spille hvornår. Igen har jeg forsøgt at time det med, at i mine medium og hårde uger, øver jeg på noget, der enten er mere teknisk svært, eller at jeg simpelthen skal øve på flere stykker. I min recovery og i de lette uger, har jeg skrevet ind, at jeg fx skal lytte til bestemte indspilninger eller tjekke bestemte painister ud – det er også en måde at "øve" på, men hvor det ikke kræver, at du sidder ved instrumentet. Ud fra denne overordnet oversigt, skriver jeg løbende ned fra uge til uge, hvad mine helt specifikke mål er. Jeg bruger denne plan, som du også er velkommen til at printe ud og bruge.
Så, 2019, du kan bare komme an!
Rigtig god øvning!
Planning for the spring, 2019
As I've been writing about before, I always start a new semester by planning my weeks – more generally, where I plan my light, medium, hard and recovery weeks, but also more in detail about the repertoire, I want to learn.
2019 is no exception, of course. Actually, this semester is quite demanding on the planning task for me. This summer, I will finish my master's studies at the Royal Academy of Music, Aarhus. This means that I have to play a concert with a duration of 45 minutes. Besides, I really want to apply for the soloist program – where they need 75 minutes of repertoire in different styles. It is almost the same length as a whole evening concert, and I have never tried to have so many pieces ready at the same time. Ever. So, it's a bit overwhelming, stressing but also, this is a huge experience for me. Not only I have to learn the pieces, but at the same time, I have to keep developing them, so it keeps being better and better – not the other way around. In parallel to that, I have to do my master's thesis and take care of my job – and that takes a lot more energy than you think. Therefore, I think that efficient practice will be vital in the next couple of months. ?
In the beginning, I always try to plan my weeks ahead. The recovery and light weeks are always at the time, where I'm really busy at work – If I have to attend several courses, projects or other matters which requires my participation, so I don't have the time to practice that much. I try to put my recovery week in the actual vacations – like winter break or Easter, because I know I have to be with my family. The medium and heavy weeks are where a have a more "normal" school/work-schedule. Because I have a quite busy calendar this spring, I couldn't make every 4th week my recovery week. Sometimes, it is already after 3 weeks, but sometimes it is every 5th week. If then, it is very important for me to take for example 2 light weeks, so I don't drain myself for energy.
If you are interested, you can download or print the schedule here and plan your own weeks after your own needs.
In addition to that, I have also made a more detailed practice plan with the repertoire, I have to learn. I try to time it, so I will have to practice on something more technical demanding or that I simply have more pieces to learn in my medium and heavy weeks. In the recovery and light weeks, I have given myself the goal to either listen to different recording or check out a specific pianist – we have to remember all the ways we can practice away from our instruments. I use this schedule from week to week to write my goals down, more specifically – what do I have to do?
You can download or print it out here and use it as well, if you want.
So, 2019, do your worst, because I'm ready!
Have fun practicing!