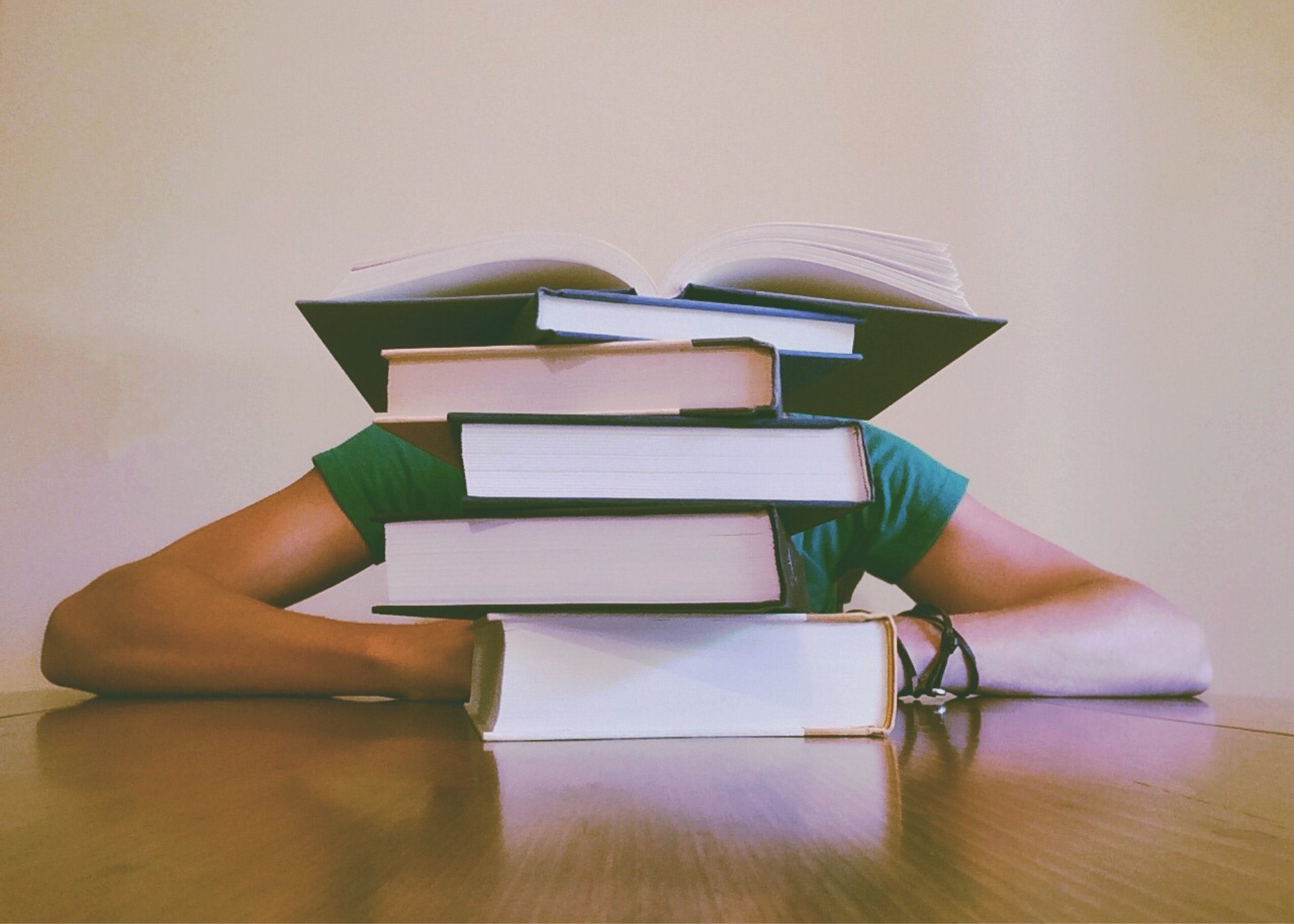 English below☟
En måned er gået siden ferien og vi har langsomt indfundet os med dagligdagens gøremål igen. De daglige øverutiner, skalaer, øvelser og måske allerede en underliggende fornemmelse af stress. Det går godt med øvningen – eller, fremad, i hvert fald. Vi prøver febrilsk at nå det hele, helst med det samme, og endda komme lidt forud med alle planerne, så vi kan virke organiserede og overskudsagtige. Det er en ny start, en ny tid, en ny "mig".
Men så rammer realiteten lige pludselig: jeg har for mange ting, jeg skal nå!
Hvad enten det er rent repertoiremæssigt, eller om det er at genfinde balancen mellem at være studerende, lærer, familiemedlem, kæreste og stadig have tid til at se sine venner – på én gang! Der er kun 24 timer i døgnet, 8 af dem går til søvn, 2 af dem til at spise og endnu to til de små pauser, man tager i ny og næ. Så er der lige pludselig kun 12 timer tilbage. 12 sølle timer til at nå alt dét, og sikkert mere til… Og uanset hvor gode intentioner man har, hvor hårdt man arbejder eller hvor meget man planlægger, så går det aldrig helt efter bogen alligevel – og det gælder især øvning. Enten har man for meget at øve på og man føler, at man ikke kan nå til bunds med det hele, eller også aner man simpelthen ikke, hvor man skal starte – eller hvordan man skal gribe det an.
Forleden dag tog jeg mig selv i at bruge en hel morgen på at tænke over, hvad jeg skulle øve på. Jeg har i skrivende stund en masse repertoire om hænderne, som både inkluderer værker, som er næsten performanceklar, værker som jeg har lige har memoreret og helt nye ting, som jeg ikke har haft første time på endnu. Jeg kan godt lide at starte med de nyere værker først om morgenen, eftersom jeg tænker klarest – men så kommer problemet i, at jeg ofte bruger lidt for lang tid på at få det til at fungere, i stedet for at gå videre til de andre stykker, jeg kan bedre. Jeg når til et punkt med det nye repertoire, hvor tingene begynder at falde på plads, men så vi jeg bare liiiiige have det et ekstra par gange for at være helt sikker. Men så begynder det at gå galt. Jeg glemmer tit i min iver, at jeg har brug for at tage en pause, måske endda lade det ligge natten over, så det kan sætte sig helt fast inden jeg kan arbejde videre med det og høre en mærkbar forskel – i stedet for at det går den forkerte vej, fordi jeg er for træt i hovedet. I stedet for at slutte af med en følelse af tilfredshed og lysten til at øve mere, begynder jeg at blive irriteret på mig selv over, at det stadig ikke fungerer eller at det lyder dårligere. Og således endte jeg i den onde spiral.
Men efter at have reflekteret over min øvning, besluttede jeg mig for at prøve kræfter af med en daglig øveplan, for at være mere afklaret med, hvad jeg skal nå. Det er lige så enkelt, som det lyder til: inden jeg går i gang med dagens øvning, beslutter jeg mig på forhånd, hvor lang tid jeg vil øve (baseret på øveplanen her), hvad jeg skal øve på samt hvad formålet er. Jeg sætter så flueben ved de ting, jeg har nået og tilføjer evt. en kommentar efterfølgende – det kunne fx være noget, jeg skal huske at tjekke efter eller fokusere på dagen efter. Når jeg så har nået de mål, jeg har sat mig for, kan jeg holde fri med god samvittighed.
Her kommer et eksempel fra min øvning i fredags (hård dag):

Selvfølgelig er det ikke hver dag, jeg får nået alting på min øveplan, og det kan også være, at jeg på dagen hellere vil øve på min Bach i stedet for Rautavaara – men det er også tilladt. Så bytter jeg bare om på noget af det og justerer min plan til løbende, men som udgangspunkt er det rart at have en cirka-plan for dagen. Det giver meget mere ro i sindet og en følelse af succes, når man kan kigge tilbage på det, man har nået. Jeg vil råde jer til at prøve det af i en uges tid – og hvis i har lyst, kan i downloade mit skema og bruge det som inspiration.
God øvning!
Help – I don't know what to practice!
A month has passed since the summer vacation. We are slowly getting used to the daily routines again. The practicing, scales, exercises and maybe already an underlying feeling of stress. Everything is fine with the practice – or, at least it is moving forward. We are trying feverishly to work everything out immediately. We want to be a bit ahead our plans, so it seems like we are organized and make a profit. It's a new start, a new time, a new "me".
But then the sun comes out and reality set in: I have too many things to do!
Whether it is the repertoire, or to retrieve the perfect balance between being a student, teacher, family member, boy/girlfriend and still have time to catch up with friends – all at once! There are only 24 hours per day. In 8 of them, we sleep, then we use another 2 eating and counting all the small breaks etc. during the day, it takes 2 more. Then we only have 12 hours left. 12 piddling hours to do everything we want, and even more than that… And no matter how great intentions we have, how hard we work or how much you plan to do, it never really goes after the book – and especially when it comes to practicing. Either you have too much to practice on and you never seem to have the time to dig deeply into everything, or you simply don't know where to start – or how to go about it in a good way.
The other day, I realized that it took me the whole morning speculating what to practice on. At the time of writing, I have a lot repertoire to take care of, including almost performance ready pieces, pieces I have just memorizes and fresh ones. I like to start with the newest as the first thing in the morning because I'm more focused – but the problem is often that I use too much time, trying to solve the puzzles at once instead of moving on to other pieces. I tend to reach that point where it's almost working, so I just want to do it right a couple of more times, just to be completely sure. But then things start to go wrong. In my eager, I always forget that it needs a break, maybe even overnight, so things can be settled in my head and body before I can work further on and really hear an improvement. Instead, I continue and immediately, it is getting worse and I begin to be annoyed at myself instead of having a feeling of satisfaction and the pleasure to practice more. And that is when I enter the bad spiral.
But after reflecting over my practice, I decided to try out a daily practice plan, just to be absolutely clear about what I want to do. It is actually as simple as it sounds: before practicing, I decide in advance how much time I want to practice today (based on the practice plan here), what I will practice on and what the goal is. During the practice, I will checkmark regularly after each piece/goal and write a little comment – it could be for example what I will check or focus on the day after. When I have done everything, I can take the rest of the day off with a clear conscience.
Here you can see an example from my practice this Friday (hard day):
Of course, it is not every day, I achieve every single goal from my plan. It can also happen that I rather practice on my Bach instead of Rautavaara – but that is also allowed. Then I will simply just switch it with something on my plan and adjust it continuously, but it is nice to have a plan to start with. It gives more peace and a feeling of success when you can look back at your plan and see allt he things you actually have accomplished. I will advise you to try it out in a week or so – and if you want, you can download my schedule and use it as an inspiration.
Have fun practicing!