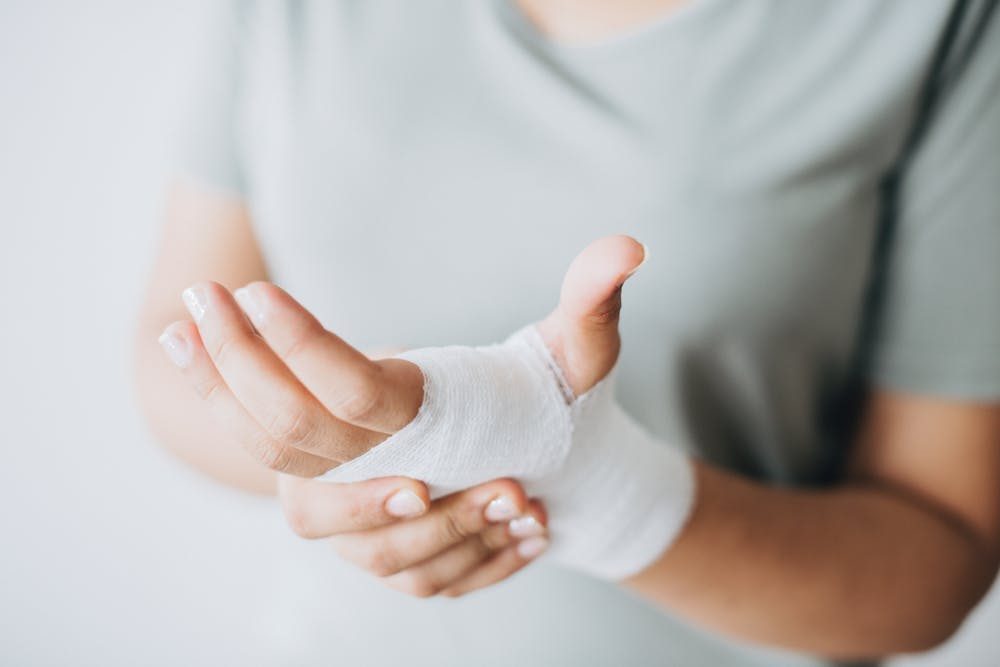 English below ☟
Vi bliver ofte sammenlignet med atleter. Vi øver os hver dag, fordi vi gerne vil forbedre os teknisk, så vi kan performe bedre. I adskillige timer ad gangen, presser vi vores kroppe til at yde bare en lille smule mere, fordi vi gerne vil rykke os fra dag til dag. Men nogle gange kan kroppen sige fra – den har fået nok af al den øvning. Måske begynder det endda at gøre ondt?
Det starter måske uskyldigt ud med små spændinger, som kommer med jævne mellemrum – men som altid forsvinder igen efter lidt tid. Men efterhånden dukker symptomerne op oftere og oftere. De bliver måske ved med at være der i længere tid ad gangen og forsvinder ikke helt så nemt, som de plejede. Derfor tager du en lidt længere pause væk fra dit instrument for at få smerterne til at forsvinde helt, fordi det ikke længere er til at holde ud at spille. Men hvorfor kommer de?
Den største grund til, at så mange musikere døjer med smerter, er fordi dét at øve sig, uanset om det er på violin, klaver, fløjte eller trommer, er ensformigt. Vi gør det samme igen og igen, så det er de samme muskelgrupper, der hele tiden arbejder. Der er ikke altid tid nok til for muskelgrupperne at slappe af og lade op, inden vi øver os igen. Mange oplever smerter, når de fx ændrer teknik, øvevaner eller kropsholdning. Hvis man ikke er opmærksom på, at man lige pludselig har ændret noget i forbindelse med sin øvning, men derimod fortsætter med at øve sig på samme måde som før – det er hér, det begynder at blive farligt.
Afhængig af dit instrument, er det forskellige steder på kroppen, spændingerne især er tydelige.
For strygere gælder det, at ryggen, skuldrene samt nakken bliver særligt udsat. Smerterne er afhængige af instrumentet samt dets højde og vægt – og om musikeren sidder ned eller står op under øvning. Strygere mærker tit stive muskler, smerter, ømhed, spændinger eller følelsesløshed i fingre, hænder, håndled, nakke, kæbe, ryg og skuldre.
Træblæsere har tilbøjelighed til at få smerter i ører, næse, hals, mund, læber, nakke, skuldre og arme.
Percussion og pianister mærker spændinger i ryggen, skuldrene, hænder, håndled, fingre og arme.
Men hvad kan du selv gøre, for at forhindre disse skader?
1. Lad være med at droppe opvarmningen
Det er ligesom i sportens verden – alle atleter har en opvarmningsrutine, 100m løberne starter ikke bare konkurrencen med at sprinte afsted, hvis ikke deres kroppe er varme inden. Det samme er gældende for os. Sæt tid af til at lave en ordentlig opvarmning og gør det til en fast rutine.
2. Rigtig kropsholdning
Observér din egen sidestilling eller den måde, du står/holder instrumentet på, når du øver dig. Sidder du med rank ryg eller falder du sammen? Står du og hviler på begge dine fødder, eller står du skævt? Den rigtige kropsholdning vil ikke kun forebygge skader, men også give dig mere klang at arbejde med.
3. Evaluér dig selv ved dit instrument
Er størrelsen og vægten på dit instrument ideel for dig? Har du brug for noget ekstra tilbehør for at gøre din øvning mere komfortabel? Fx et spænde/sele til at holde dit instrument, en ekstra pude til stolen eller en lille skammel under klaveret til at have dine fødder på, hvis ikke du kan nå gulvet?
Hvad end der skal til, for at du får det bedst muligt ved dit instrument.
4. Spilleteknik
Nogle gange skal vi forbedre vores teknik eller måske lære en helt ny. Læreren giver dig en masse råd og øvemetoder, for at være sikker på, at du øver dig rigtigt derhjemme. Men gør du rent faktisk, hvad de beder om? Husk at tage noter, optag hvad læreren siger eller måske filme det. På den måde kan du huske alt, hvad læreren har sagt, at du skal gøre – og du kan være endnu sikrere på ikke at have glemt noget.
5. Lyt til din krop
Kroppen lader dig altid vide, hvis noget ikke er, som det skal være. Lyt til den. Føler du dig træt? Begynder dine arme og fingre at føles tunge? Det er kroppens signaler til, at du skal tage en pause og slappe af. Føler du dig tør i munden og læberne føles ømme? Så drik noget vand og gå lidt rundt i lokalet. Husk at holde pauser og gør dem til en naturlig del af din øvning. Lad være med at presse dig selv for meget!
Bliver det ved med at gøre ondt, eller vender de samme symptomer tilbage hele tiden, bliver du nødt til at søge læge. Jo tidligere jo bedre – og husk, det må aldrig gøre ondt at øve sig!
How to avoid musicians' injuries
Musicians are often compared to athletes. We practice daily to perfect our skills so we can perform better. For hours every day, we push our bodies to just contribute that little extra, because we want to see the progress from day to day. But sometimes our bodies become overused – it has had enough of all the practicing. Maybe playing even becomes painful.
Playing with pain does not always happen right away. It may start with fatigue or tension that will go away eventually. But as time passes, you may find that these symptoms linger for a little longer and don't go away as easily as they used to. Therefore, you must take a long break from your instrument before the pain really goes away. But why does it start to be painful?
The main reason that so many musicians have injuries are because practicing on your instrument, whether it is the violin, piano, flute or drums, is repetitive. We do the same over and over again. It is the same muscles we use all the time. They don't always have time enough to recover and rebuild after use. Without the rest they need, their fibers will break down and inflammation and pain occur. Many experience that when they for example change their technique, practice habits, instrument set-up or posture can contribute to injury. If you are not aware of these changes and still practice in the same, old way, it will start to get dangerous.
Depending on your instrument, it is different places in your body, the tensions occur.
String instrumentalists are prone to injuries on the back, shoulders and neck. It will vary depending on the particular instrument being played, its height, weight and if the musician is seated or standing while playing it. They often complain about muscle stiffness, pain, soreness, tension or numbness in the fingers, hand, wrist, neck, jaw, back and shoulders.
Wind instrumentalists are prone to ear, nose, throat, mouth, lips, neck, shoulder and arm injuries.
Percussion and pianists often complain of back, shoulder, neck, hand, wrist, fingers and arm pain and tension.
But what can you do yourself to prevent these injuries?
1. Don't skip the warming up
Like in the world of sport – every athlete has a warm-up routine. They don't just sprint if their bodies aren't warmed up. It is the same with us. Take your time to do a proper warm up and make it a habit.
2. Observe your posture
Do you have a proper posture while practicing? Observe yourself and make sure that you are seated or standing correctly in relation to your instrument. Good posture doesn't only prevent injuries and pain but it will also help you play your instrument more efficiently with less pain.
3. Evaluate your instrument
Is the size, weight and height of your instrument ideal for you? Decide if you need an accessory to make playing your instrument more comfortable, such as a strap, cushioned stool, a sustained pedal on the piano etc.
4. Playing technique
Sometimes we need to improve our techniques or learn a new one. The teacher will give you important tools and practice methods to make sure that you practice in the right way at home. But are you actually doing, what they ask for? Remember to take notes, record what the teacher says or maybe make a little video about what you have to do exactly – then you can be 100% sure of practicing the right way.
5. Listen to your body
Our bodies always let us know when something is wrong or if a certain body part isn't functioning well. Listen to your body. When your arms are feeling tired and strained from playing – stop and take a rest. Does your mouth feel dry, your lips are sore? Drink some water and take a walk in the room. Remember to take breaks and let them be a natural part of your practice routine.
Lastly, if the pain doesn't go away or if the same symptoms are coming again and again, don't hestitate to contact a doctor. The easier, the better – and remember that it never has to be painful while practicing!
.