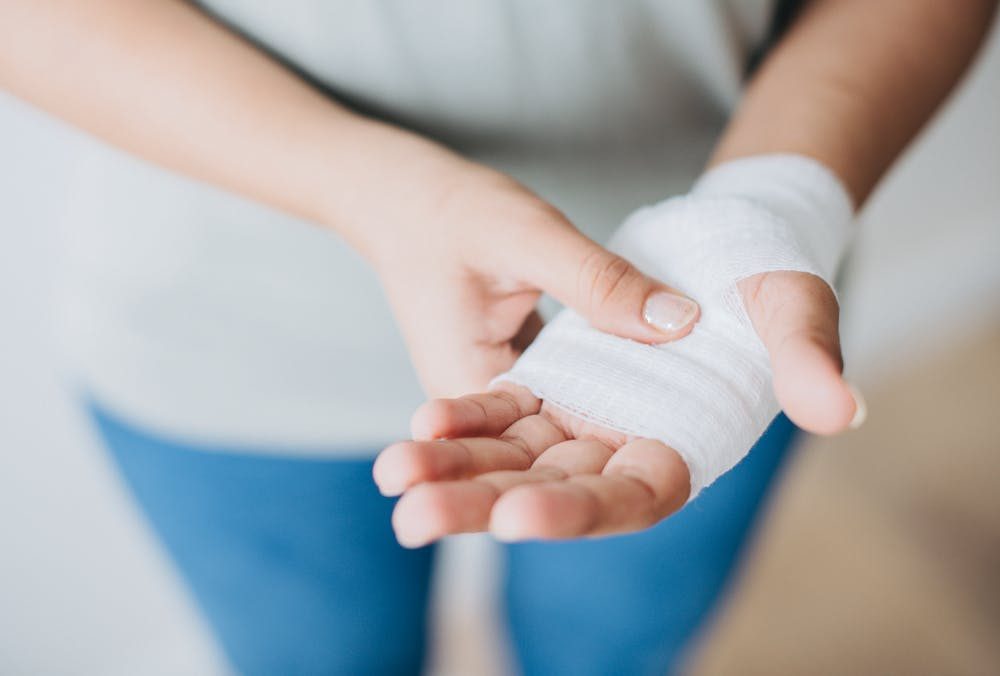 English below ☟
Den gode pianist, Mark Hambourg siger følgende: "Three qualities are essential in a professional musician… the first is good health and the other two are the same."
Uanset om du er professionel musiker, elev eller amatør, gør det same sig gældende. For at du kan blive ved med at spille og øve dig ved dit instrument, kræver det, at du er i en god, fysisk form. Alt for tit oplever jeg dog – både med mig selv, mine medstuderende, men også mine elever, at man ofte er så koncentreret og fokuseret på musikken, at man glemmer at rette opmærksomheden på ens eget velbefindende. Men hvis ikke man lytter efter ens egen krop, som kommer musikken også til at "lide". Derfor sørger jeg altid for i min egen undervisning, at følgende 5 kriterier er opfyldt hos eleverne:
1. Siddestilling
Ved klaveret skal eleven sidde med begge fødder på gulvet, placeret foran dem. Klaverbænken justeres til og siddestillingen er god, når armene er i en naturlig forlængelse af tangenterne. Man sætter sig på den yderste halvdel af bænken med rettet ryg, så der er god balance. Man skal sidde tilpas langt væk fra klaveret, at armene kan bevæges frit – dvs. uden at spænde op i skuldrene eller støde albuerne ind i kroppen.
Det er selvfølgelig forskelligt fra instrument til instrument, hvordan man sidder/står rigtigt, men det vigtigste er, at man sidder/står ergonomisk med god kontakt og balance til gulvet.
2. Opvarmning
Det gælder både med og uden instrumentet. Jeg gør tit det med mine elever, at vi laver nogle små gymnastik-øvelser – fx at rotere håndleddene 10 gange i hver sin retning, inden vi begynder at spille på klaveret. Det kan også være, at de skal lave store armsvingsbevægelser eller strække ud, alt afhængig af, hvordan deres tilstand er på dagen.
3. Fysiske og mentale udfordringer
Man skal aldrig tvinge noget til at lykkes – hverken fysisk eller mentalt. Hvis der er en passage, som er særligt svær for eleven, og man kan se og mærke, at eleven begynder at spænde op, bør man gribe ind som lærer og stoppe med det samme. Herefter kan man sammen identificere og simplificere problemet samt prøve igen. Det skal fungere helt optimalt (også kropsligt), inden man bygger ovenpå det tekniske.
4. Vejrtrækning
Uanset om eleven er sanger eller instrumentalist, bør der altid til en vis grad være fokus på vejrtrækningen. Jeg har oplevet, at nogle af eleverne simpelthen holder vejret, når der kommer en svær passage, eller noget de er virkelig nervøse for. Det resulterer dog i en klodset vejrtrækning, som kommer på en uhensigtsmæssig tidspunkt i stykket og forstyrrer eleven mere end det gavner.
5. Fysisk bevægelse
Dét at spille musik og at øve sig er stillesiddende. Derfor er det vigtigt, at eleven får rørt sig til hverdagen, for at løsne musklerne og aktivere de større muskelgrupper. De behøver ikke nødvendigvis at være den store fodboldelsker i deres fritid, men selv det at gå længere ture eller tage en tur i svømmehallen vil gøre underværker – også for deres fysik, så de kan holde til at sidde ned i længere tid ad gangen og øve sig.
Når vi minimerer spændinger og er opmærksomme på vores fysiske tilstedeværelse, er det nemmere at reducere stress. På den måde kan vi være mere frie, når vi spiller – og først her, kan vi skabe musik. Så prøv at sætte det på dagsordenen for en stund og mærk efter, om det gavner dig!
How to avoid injuries vol. 2
The great pianist, Mark Hambourg said, "Three qualities are essential in a professional musician… the first is good health and the other two are the same."
No matter if you are a professional musician, a student or an amateur, the same conditions must apply. If you want to keep playing and practicing every day, it is required that you are in a good, physical shape. Too often, I experience with colleagues, my students, and myself that we tend to focus too much on the music, so we completely forget paying attention to our wellbeing. But if we neglect self-care to the point that we become unwell, then our music making will suffer and possibly come to a halt. Therefore, I always have these 5 habits in mind while teaching:
1. How to sit
At the piano, the student must sit with both feet on the ground, placed just in front of them. The chair has to be so the arms are in a natural extension from the keys. The student should be sitting on the outmost of the chair with straight back to keep the good balance. There should be enough space between the piano and the student, so the arms can move freely without touching the body.
Of course, it is different from instrument to instrument how to sit/stand in a proper way. The most important thing is that the student is sitting/standing in an ergonomically way.
2. Warming up
Warming up before playing does not always have to be with the instrument. I sometimes to small gymnastics exercises with my students – e.g. to rotate the wrist 10 times in both ways before playing at the piano. It could also be that they have swing slowly with their whole arm or just to stretch out – depending on their condition that day.
3. Physical and mental challenges
Don't ever force anything to happen – whether it is physical or mental. If a task is too difficult for the student to complete without tension, the teacher should stop it right away. Together we can identify and simplify the problem and try again. It has to work optimal (also in a physical way) before adding something more technical demanding.
4. Breathing
Whether the student is a singer or an instrumentalist, there must be focus on breathing at some point. I have experienced with my own students that they simply hold their breath every time there is something technical difficult, or a specific place where they are afraid of playing it wrong. But that means clumsy breathing that contributes to tension and misuse.
5. Physical movements
Playing music is sedentary. Therefore, it is extremely important that the student do something to involve the whole body, in order to activate bigger muscles. They don't have to be soccer-lovers, but even just take a long walk or go for a swim count!
When we minimize tension and cultivate mental and physical ease, we decrease stress on our bodies and free ourselves to create our best music. Try to focus a bit more on this in the following weeks and see if it will benefit you!