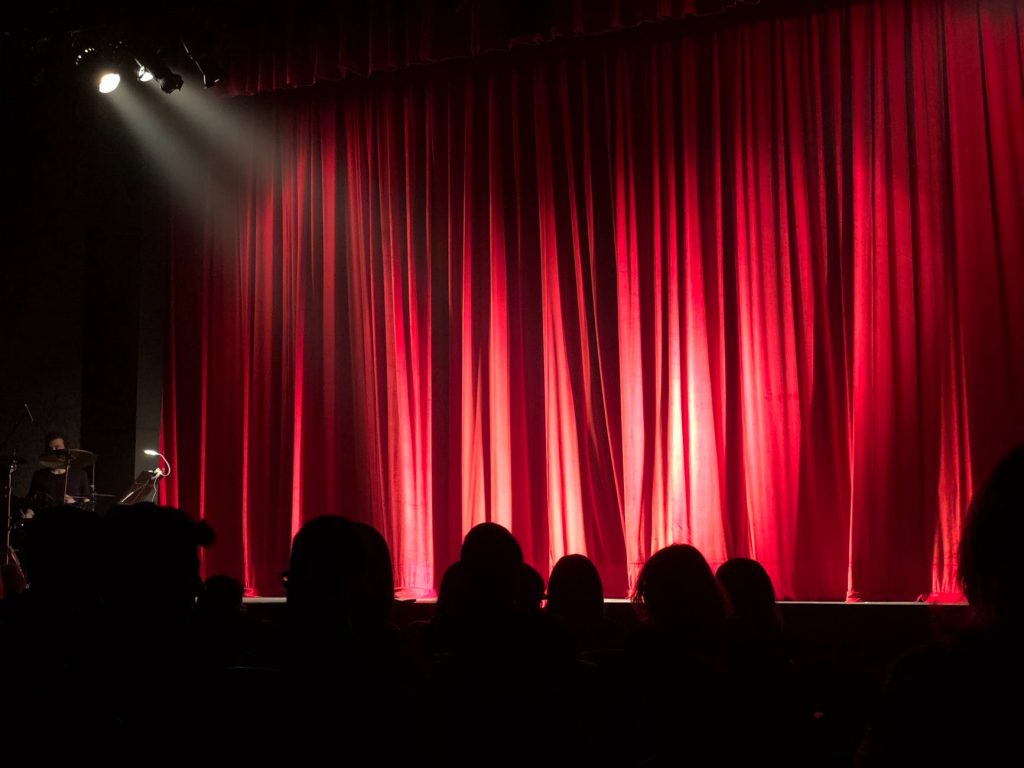 English below ☟
Uanset om du er elev, studerende eller lærer, er det virkelig vigtigt, at holde gang i din performance-"karriere". Som minimum én gang om året – det burde alle både have energi og tid til. Selvfølgelig er der de mennesker, som ikke har det godt med at spille foran andre. Det kan skyldes usikkerhed, præsentationsangst, manglende motivation eller andet, men jeg fortæller altid mine elever, at musik er en måde at kommunikere på – det er meningen, at det skal deles med andre.
Det er sandt, at du mest spiller for din egen skyld. Det er trods alt dig, der gerne vil lære at spille på dit instrument. Du vil gerne skabe musik, og du vil gerne mestre dit instrument, så du kan spille hvad som helst. Men når du performer, presser du dig selv udover det sædvanlige. Du kommer ud af din comfortzone og oplever på den måde, hvordan du deler din "gave" med andre mennesker – og det er ikke alle, der har denne gave.
Jeg gør selv det, at jeg altid afslutter et semester af med en afslutningskoncert – én til december samt én i juni. Mine elever får en printet invitation, som de får med hjem til forældrene og skal aflevere den nederste del af sedlen tilbage, hvor de udfylder hvor mange mennesker, de kommer, samt hvad de medbringer af lækkerier til snacksbordet i pausen. Efter deres deltagelse til koncerten, får de hver især et diplom med navn og dato på, hvor der også står, hvad de har spillet. På den måde viser jeg, at det faktisk er rigtigt flot, at de tør spille foran andre og at de kan være stolte over sig selv – og så har de jo også noget at glæde sig til, samtidig med at det er sjovt at samle og kigge tilbage på med årene.
Men hvorfor er det egentlig vigtigt at performe?
1. At opnå et mål
Man øver sig altid ekstra meget op til en koncert, fordi man jo gerne vil klare sig godt. Sammen med læreren bliver der sat et mål, en form for deadline. Når det mål er nået, får man følelsen af at have opnået noget – og man bliver da selvfølgelig stolt, når det er gået godt!
2. For forældrenes skyld
For en gangs skyld kan forældrene endelig høre, hvad man har udrettet. De er jo hverken med i timerne eller når man øver sig derhjemme – og hvis de er, så hører de kun alt det bøvl, man slås med, og ikke selve værket, når man bliver færdig med at lære det. Til koncerterne er det derfor en mulighed for dem at opleve, hvor meget man egentlig har lært.
3. Inspiration og fællesskab
Til meget instrumentalundervisning sidder man kun sammen med læreren, så det kan blive en smule ensomt nogen gange. Til koncerterne vil der være mulighed for både at lytte til de andre elever og blive inspireret af dem, som har gået i længere tid, men man kan også komme til at snakke med de andre, der også går til musik. Det kommer til at styrke fællesskabet i sidste ende – hvem ved om der gemmer sig en ny bedsteven eller sammenspilspartner et sted, men som du bare ikke har mødt endnu?
4. At øve på et andet niveau
Når man spiller til koncert, bliver der arbejdet mere med alle detaljerne. Der er en stor forskel på, om man spiller for sin lærer eller foran et publikum. Ved sidstnævnte skal man også, for de fleste solisters vedkomne, øve sig i at huske stykkerne udenad og på den måde arbejde mere bevidst omkring memorering. Derudover investerer man også både mere tid og energi i at finpudse stykkerne, så de bliver så "perfekte" som muligt – en motivation, som ellers ikke vil være der, hvis du "bare" skal spille for din lærer.
5. Mindre sceneskræk
De fleste bliver en smule nervøse, når de skal spille for nogen. Men jo flere gange man prøver det, jo mindre skræmt virker situationen også. Dette kommer til at gøre gavn på et senere tidspunkt, fx til eksaminer eller konkurrencer, hvor det også gælder om at præstere på bedste vis.
Så, hvis du har en koncert inden jul – så tillykke! Og glæd dig til at spille!
Og hvis ikke – så er det måske på tide at tage et kig i kalenderen og få arrangeret en inden alt for længe?
Why it is important to keep performing
Whether you are a student or a teacher, it is really important to keep performing. At least once per year – everybody should be able to find time and energy for that. Of course, some of you might feel anxious playing for people, or you simply don't want to. Uncertainty, stage fright or lack of motivation could cause this feeling. What I always tell my students is that music is a way of communication – it is meant to be shared with other people.
It is true you are playing for your own enjoyment first and forest. After all, you are the one who want to play on your instrument. You want to create music and you want to master your instrument so you can be able to play whatever you want. But when you perform, you push yourself out of your comfort zone. You learn how to share your "gift" with other people in a different way – and it is far from everyone, who has this gift.
I always end every semester with a concert – one in December and one in June. I make an invitation for my pupils to bring home and then their parents has the return the bottom of the page, where they write how many people are attending and what they will bring for the snack table. After their participation, they get a diploma with their names and the date of the concert. In this way, I show them that it is really brave that they played in front of others and that they can be proud of themselves. And beside from that, they also have something to look forward to and collect.
But why is it important to perform?
1. Accomplishment
When you have a concert coming up, you will practice more because you want to play well at the concert. You will set a goal together with your teacher – it is just like a deadline. When you reach the goal, you will develop a sense of pride and accomplishment and it will feel awarding.
2. For the parents
The parents finally get a chance to hear their children's progress. They are not around during the lessons or necessarily when the kids are practicing at home – and if they are, they only get to hear all the struggle and will not experience how much they have learned and how far they have come. But performances give them the chance to experience it.
3. Inspiration and community
During the lesson, it will only be you and your teacher, so playing an instrument can be very lonely sometimes. At the concerts, there will be an opportunity to listen to the other students and get inspiration from those, who has been playing for a longer time. You also get the chance to talk to the other and develop a sense of community. Who knows if your new best friend is out there somewhere?
5. To practice on a different level
When you have to play in a concert, you will learn the art of perfecting their pieces. There is a big difference between being ready to play for your music teacher and being ready to play for an event. When you get ready for a concert, you will polish your pieces more and go more into details with it. Finally, you will also practice different ways of memorization. It gives a different way of motivation, when you have to learn how to "perfect" a piece.
5. Overcoming stage fright
Most of the students get nervous when they have to play for other people. But the more you do it, the better it will be. Eventually, they will learn how to handle the spotlight and they will acquire the courage needed for bigger opportunities, as for example auditions, competitions and even exams.
So, if you have a concert before Christmas – congratulations! And really try to look forward to play!
And if not – maybe now it is the time to take a look in your calendar and arrange one yourself in the nearest future?