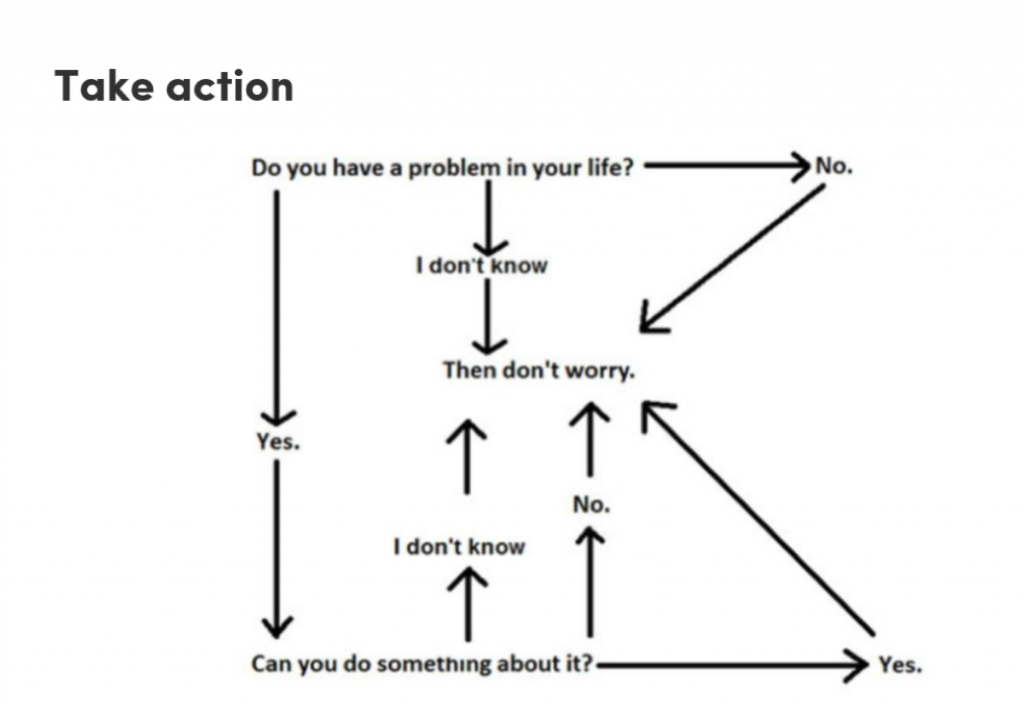 English below ☟
Hvad hvis jeg spiller en forkert tone til koncerten? Eller hvis jeg glemmer, hvad jeg skal spille?
Er jeg mon startet med at spille i en for sen alder? Eller besluttet mig for at blive professionel musiker alt for sent?
Hvad hvis jeg ikke får et job efter min musikuddannelse?
Det er så nemt at drukne i alle disse "hvad nu hvis" spørgsmål. Når først det første tegn på tvivl dukker op i vores tanker, begynder det ene spørgsmål at komme efter det andet – som en trillende snebold, der bliver større og større og slet ikke er til at standse. Jo længere vi tænker over dem, jo mere stressede bliver vi også. Men hvor stor en del af vores daglige bekymringer kommer egentlig til at ske?
Der er blevet lavet en undersøgelse for nylig af LaFreniere og Newman, som gennemgår 29 studerendes "bekymringsdagbøger" over en periode på 3 uger. Formålet med denne var at finde ud af, hvor stor en procentdel af deres bekymringer, der rent faktisk var relevante. I deres dagbøger skulle de hver dag notere mindst 4 ting ned, som de enten var nervøse for eller brugte tid på at tænke over. Dette skulle de så følge op på løbende for at finde ud af, om det egentlig skete. Helt specifikt fik de besked på at notere følgende punkter ned:
1. Selve bekymringen
Dvs. det specifikke "problem", de har omkring deres "fremtid" (altså, noget som ikke er sket endnu)
2. Graden af bekymringen
På en skala fra 1-7, hvor 1 er lavest
3. Mængden af bekymringen
Hvor meget tid bliver der brugt på at tænke over denne, siden tanken dukkede op i hovedet?
4. 2 udsagn omkring hvorvidt denne bekymring bliver til virkelighed
1) Det følelsesmæssige: hvad siger din mavefornemmelse? Hvad føler du?
2) Det logiske: hvad siger din hjerne? Hvor sandsynligt er det, at det kommer til at ske?
Hver aften skulle de tage bøgerne frem og gennemgå disse bekymringer én efter én. Hvis nogen af dem rent faktisk skete, skulle de notere ned, om det var:
1) Lige så slemt som de havde frygtet
2) Slemmere end hvad de havde frygtet
3) Bedre end frygtet
Efter de 21 dage, skulle de gennemgå det hele igen for at se, hvordan udfaldet blev.
Resultatet blev, at 91,39% af deres bekymringer faktisk overhovedet ikke skete. For 7 af deltagerne skete faktisk ingen af de ting, de havde noteret ned og for dem, hvor nogen af bekymringerne rent faktisk skete, endte det med at være bedre end hvad de havde frygtet.
Hvad kan vi lære af denne undersøgelse?
Først og fremmest, fylder bekymringerne enormt meget i vores hoveder. Vi bruger lang tid på at gå og fokusere på noget, som højst sandsynlig ikke kommer til at ske. Undersøgelsen viste, at det faktisk fyldte 25,88% af deres daglige tanker. Derudover bliver vi følelsesmæssigt påvirket af, at gå rundt og bære på så mange negative tanker. For deltagerne gjalde det, at graden af bekymringerne var på 4,51 ud af 7, hvilket ligger relativt højt.
Hvad kan vi så gøre, for at reducere mængden af vores bekymringer?
Det kunne være praktisk, hvis man bare kunne skubbe eller stoppe alle tankerne med et knips. Faktisk er det nogen gange sværere at lade være med at tænke på noget helt bevidst – det er ligesom den lyserøde elefant i rummet. Det kræver øvelse og et logisk sind – og tilvænning, ej at forglemme. Men hvorfor ikke prøve, næste gang du bekymrer dig om noget, at udpensle bekymringen? Enten ved at skrive den ned, snakke med én om det eller andet, der får dig til at analysere "problemet" og finde ud af, om der overhovedet er grund til at bekymre dig?
For i de fleste tilfælde vil svaret nok være et nej.
Så tag det roligt, træk vejret dybt og smil. For måske behøver du i virkeligheden slet ikke at gå og være nervøs overfor noget, som der er en meget lille sandsynlighed for at ske ?
Worries – and what they do to us
What is I miss a note in the concert? Or if I suddently forget what to play next?
What if I started too late to play an instrument? Or decided to be a professional musician too late?
What if I don't get a job after graduation?
It's so easy to get stuck in a cycle of worries and "what if's". When the first sign of self-doubt turns up in your head, it can be pretty hard to get rid of all the questions that are suddenly coming up in your head – like a rolling snowball that only gets bigger and bigger. The more we think about them, the more stressed we will be. But how many of our daily worries actually came true?
A recent study by LaFreniere and Newman analyzed the "worry journals" of 29 undergraduate students over a period of 21 days. The purpose of this research was to find out how many of their worries actually came true. In their diaries, they have to write down at least 4 things that worries them every day. Either problems they are thinking about or afraid of. Specifically, they have to write down these points:
1. The worry itself
Defined as a specific "problem" they have regarding their future (something that hasn't happened yet)
2. The degree of distress
Defined as a number from 1-7, where 1 is no distress at all
3. How much space the worry was taking up
They have to answer the question: "How much time did that worry take up since I first had the worry?"
4. 2 estimates
Based on the "gut feelings/intuition" – what do you feel?
Based on the "logical likelihood" – what would the most rational person in the world suggest you to do?
Every evening, they have to take their dairies and go through the worries one by one. If, by any chance, some of them actually did came true, they have to note down if it was:
1) As bad as they expected
2) Worse than they expected
3) Better than they expected
After 21 days, they have to go through them again to see the result.
As it turns out, 91.39% or their worries did not come true. For 7 participants, none of their worries actually came true – and for those that did, they actually rated the worries to be better than expected.
So, what can we learn from this experiment?
First of all, our worries take a lot of space in our minds. We use much of our time to focus on something that might not even happen. The research shows that our worries actually took 25.88% of our daily thoughts. Apart from that, we get much more emotional confused by carrying all the negative thinking. The students from the research ranked their worries 4.51 out of 7, which is in the higher end.
What can we do to reduce our worries?
Well, it could definitely be practical, if we could just stop or push our worries away from one day to another. But actually, it might sometimes be more difficult to not think about something consciously – like the big, pink elephant in the room. It takes a lot more exercise and a quite rational mind – and of course, time to adapt the changes. But seriously, next time you start worrying about something, why not think it through? You can either write them down, as the participants did in the research, talk to someone about it or something else that force you to analyze the situation. Honestly, is there any reason for you to worry?
Because, in most cases, the answer will be: no.
So take it easy, take a deep breath and smile. You might not be worried at all – especially considering, that most of your worries will not happen anyways. ?